It all comes down to this, unlike the other battles with DK, this one has two parts. The first part is where Mario must collect the Keys to free the Toads and the other is battling DK. You have only one chance, as soon as Mario is hit the battle starts over. You can get away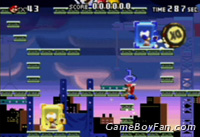 with this by holding a item like a Key, instead of losing a life, Mario will just drop the item. For the first part, the three Toads are locked up in different color boxes. In order to open them, Mario will need the Key that matches the color. There are three Keys and all them are right next to each other. The only thing is that only one will appear at a time as they are controlled by the Switches near DK. If you don't see the Key you're looking, be patient as DK will eventually hit the Switch for the Key that Mario needs. After all threeToads are free, they will wait for Donkey Kong to throw a huge DK barrel.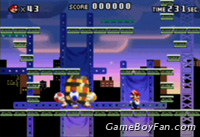 Once it has came all the way down and offscreen, the three Toads will bring it back onscreen so Mario can grab it and throw it back at Donkey Kong. With each hit it will drop DK down a few platforms and more barrels will be thrown with each hit. Mario must do this three times.